Don't see your question listed? Just give us a call now, at 508-432-9799, or contact Monomoy Photography through our contact page. Q. What if it rains? A. We request that you phone the studio the day of the session to confirm the details, and at that time we may postpone due to poor weather. This might include wind, and we could suggest a different location based upon the wind direction. If you cannot postpone the session and do not want an indoor portrait, I will refund your deposit or transfer it to another date for up to 18 months. Q. How do I reserve a date and what are the payment terms for a portrait session? A. Once you have firmed up a date and established our availability, a $50 deposit reserves the date for you. The balance of your package cost is due immediately after the portrait session. Rain dates are not reserved, but can be worked into my schedule as needed. For print orders at the viewing/purchasing appointment, a 50% deposit is due when you place your order, and the balance is due upon delivery. If the order is to be shipped you will need to pay in full. Q. Can we plan a beach session in the morning or afternoon? A. This is not recommended. On an open beach with no shade, bright sun can cause squinting and shadows, making it difficult for subjects, especially young children, to face the camera. Parking and crowds can also be an issue at public beaches in the summer. The hour before sunset is the best time for your family portrait. However, if the day is cloudy, or rain is expected, we can move the session up an hour or so. If you are hoping for a beach portrait, it is important to plan our session at an hour that would offer the best possible light, and often the wind calms closer to sunset as well. For this reason, I usually plan only one beach session per day. If you reserve early, you will get the best light of the day!
This shot was taken in the early evening when light is soft.
Chatham Bars Inn Beach
in early spring at sunset
These next are shots of the same family members at around 10:30 AM at the Ocean Edge Resort in Brewster in June.
Back to top Q. Is there anything I should bring? A. It is good to bring insect repellant, hair spray and a brush or comb. If you have young children, favorite toys or snacks may help. Q. Can I take my own pictures? A. We ask that you do not take your own photographs until after the photographer is finished with the session. Q. What should we wear? A. It makes a much nicer portrait if family members can coordinate their clothing colors. (see sample images below) We recommend solid colors and classic styles for a timeless quality. The clothing should not be the focal point of any family portrait, and bright colors distract from faces. Please avoid bright colors and bold patterns or stripes; graphic tees or large lettering; white tee shirts and sports jerseys. Light colors look best on the beach, and limiting the colors to 2 or 3 is a good idea. Blue denim, navy, white and khaki or beige are most popular for beach portraits. They are common in vacation wardrobes and because these colors are in the natural background and so become visually neutral. I also like other soft earth tones such as gray green and light brown.
Also popular is the nautical look of navy blue with white or khaki. Combining black and denim is nice when we work in parks, wooded areas, gardens and in shaded areas. The goal is always to have the faces be more prominent than the clothing. You may also want to consider your home decor color pallet when planning clothing colors for a framed wall portrait. Below is a beach portrait with coordinated clothing – The eye goes to the faces more than the clothing colors.
This image was a result of not coordinating clothing. A colorful family indeed!
Back to top Q. Can we bring our family dog? A. Yes! Dogs are always welcomed. Please be sure to have a leash. Q. Can you make me look thinner? A. Yes. With skillful posing and lighting, and afterwards, careful digital retouching we can help you to look your best, and still look like you! Q. Can you include shots of just the kids, and them with their grandparents? A. Yes! I always photograph additional groups or individuals without extra charge. If young children want to play in the sand or surf after the important portraits are captured, I will also take candid shots of them as well.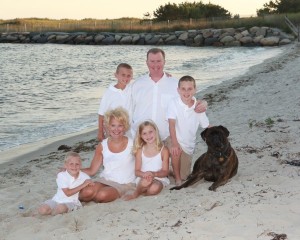 Q. How will we get my young children to cooperate? A. With your help, we can get some amazing photographs of your active children! Between the ages of 2 and 6 children can feel pressured and self-concsious, and not want to cooperate. I have found there are a few important things that can help:
Be sure that young children are well rested. We realize that most of you are on vacation here and a day at the beach with sun, wind and swimming can be exhausting. Especially because the light is best in the early evening, planning a nap before our session may be a good idea.
At the session, please do not ask their permission or give them choices about what we need them to do. For example: "Do you want to sit over here now and have a picture taken?" We all accidentally want to do this in hope that they will happily say, "Yes! But this also gives them the chance to say "No! If you say little and simply allow me to gently direct you will find that they will want to sit with you, which is the shot I take first, and before they know it, they have relaxed and are enjoying themselves! Also, if your child responds poorly to pressure, it may be best to avoid talking about the session a lot before hand. A big build up may make them nervous about what is expected of them.
Bring along a couple favorite toys and snacks. I will have a bag of toys, and some little "take home prizes" for kids under 10. (you can tell them that!) These are chosen in sizes and colors so that they can hold them during the session to help keep busy hands in a good place for a portrait and from playing in the sand too much.
Back to top Q. How long will the session take? A. This depends largely on the number of groups I'll need to cover, and the cooperation I get from children and pets. Sessions may take anywhere from 35 to 90 minutes. We can often continue to work for a short time after the sun sets during the summer months. Q. How does the selection process work? A. We will schedule a viewing session in the studio in the days following the portrait. This is the best way to view and order your photographs. The photographer will have studied the images, pre-touched some of the best options, and be prepared to show you the edited set comparing the best images, make suggestions for further retouching and cropping, and recommend which to enlarge. Editing can be done overnight, and appointments will be made at your convenience as much as possible. Plan to have any family members who intend to make purchases attend. Children are welcome, but it can be easier for you if active toddlers are not present, or if you bring someone to care for them.Package Pricing helps you plan for gift giving and special reprint rates are available after initial purchases. Q. What if we can't come to the studio? A. Online proofing can be purchased with a print deposit. Email correspondence can facilitate the process of photographers' input and recommendations. Be aware that print rates are higher when purchased online. Q. What is the turn-around time on print orders? A. It usually takes 2-3 weeks for reprint orders to be processed & shipped, including retouched and framed orders. Q. Can we have the digital files? A. The digital files are stored indefinitely, and may be purchased individually or as a full set. They are offered Free with our Classic Print package. Q. Can we get low rez files for social networking sites? A. Yes. You may purchase low resolution images after any print package. Back to top Don't see your question listed? Just give us a call now, at 508-432-9799, or contact Monomoy Photography through our contact page.